1999 CHEVY SILVERADO Z71 starting problem.
Engine size = 5.3

Repairs done prior = HARD TO START, CHANGED FUEL FILTER, PUMP, SPARK PLUGS
AND AM NEEDING TO KNOW WHERE ETHE CRANK SHAFT SENSOR IS LOCATED.

question = WHERE IS THE CRANKSHAFT SENSOR LOCATED?



MW:

Answer:
Hello and welcome. The Crankshaft position sensor on that engine is on the side of the block
behind the starter. The starter will have to be removed to get to it. After replacement, a 'crank
position variance re-learn' procedure will have to be done to calibrate the system. Not sure if a high
end after market scanner can do this or not. The dealer scanner does.
There are a couple of common things on these trucks that cause a hard start/long crank time. Let
me know what happens after the crank sensor replacement if you would like more help.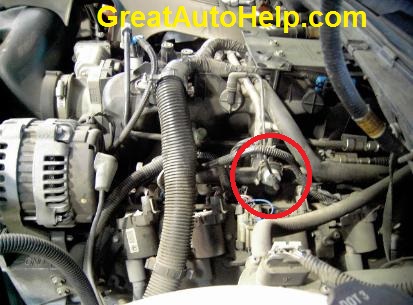 Other related articles:

VISITOR:
it cranks too long and doesn't start but can turn off and on again and can start fine.


MW:

OK, thanks. A few things to look at in the fuel system.
Most common is a leaking fuel pressure regulator (FPR). They leak raw fuel or vapor into the vacuum
line, and cause a rich condition and cause a hard start/extended crank. Cycling the key, or revving it
up to clear it out usually gets it to start and run fine. The fuel pressure regulator is on the dr. Side of
the fuel rail under the engine cover. It is about in the middle, with 1 vacuum line to it. Also there is an
older Service Bulletin regarding the fuel filler tube deteriorating inside and causing small particles to
enter the fuel and make the injectors stick. That usually will give p0300 misfire codes. Check those
things and let me know.

12-3-10
need a crankshaft positioning sensor.

Comments

3-20-12
i have a 2000 2500 chevy pickup very hard to start. Replaced fuel
filter, still hard start. What to check next?

A couple common things and easy checks...first check to
see if you've got a leaking fuel pressure regulator by
removing the vacuum line to it and looking for fuel
coming out...next, check the fuel pressure, could be a
fuel pump that is going out. Either of those will cause a
hard starting condition.

Can I get a picture showing where the crank sensor is?

It is located on the front of the engine, passenger side,
next the to the crank pulley.

2008 chevy Silverado.
Question: we replaced the motor and since we put the new one in its had an high idle as soon as we hit
the gas pedal the idle goes up even more if we unplug the gas pedal while running it idles fine.

Answer: If there is no check engine light, then you may just need to have the idle re-learned. This must
be done with a scan tool.

You can try to disconnect the battery for a few minutes, run on the highway for a few minutes, come to a
idle and let it idle for 2 minutes, shut off for 2 minutes, restart and let run for two minutes. Sometimes that
will do a re-learn.




;

More Auto Repair Answers, Questions And Help
World Of Wheels Electrical Testing Belt Diagrams Mustang Engine Overhaul All about Tires
© Copyright 2006 . JRKAZ,Inc.
Contact Us
Terms And Privacy Policy


Chevy Silverado Z71 Hard To Start