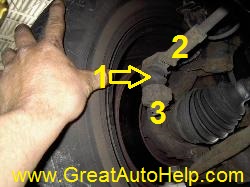 To inspect an outer tie-rod for excessive play, grab the tire and push it inward and outward
while watching for movement(1) between the tie-rod(2) and the knuckle(3) with the tire off the ground.
Loose components can cause your vehicle to pull one direction,
cause tire wear
, noise in steering, etc.




Some popular car repair articles

Car maintenance
-
A list of some common auto maintenance checks that you can do
yourself. Check fluid levels. Adjust tire pressures. Drive belt inspection, etc. Pictures
videos, and more.

Automotive questions
-
Browse lists of some previously answered questions. Choose
your vehicle by Make and Model and read articles our expert mechanics have answered.

Check engine light
-
Also known as the SERVICE ENGINE SOON or SES light. This
indicates a malfunction in the engine control and emissions systems of your car. Step by
step instructions on how to do a simple scan to check for
computer trouble codes
. These
codes give an indication as to what system is having a problem.


How To Check Outer Tie Rods On Cars And Trucks


;

Car Repair Help, Questions And Answers
World Of Wheels Electrical Testing Belt Diagrams Mustang Engine Overhaul All about Tires
© Copyright 2006 . JRKAZ,Inc.
Contact Us
Terms And Privacy Policy